We, Schönborner Armaturen GmbH, record our beginnings in 1992 with the purchase of an old forester's house with barn, stables and residential building in the community of Schönborn in the heart of Brandenburg. After the then managing directors Heidrun Dienst and Liane Ebert had laid the foundations for steel cutting and processing by converting the premises into a modern company building, Mr Thomas Ebert took over the company shares from Mrs Dienst in 2002 and expanded the first business abroad. Our company thus made a name for itself on the international market with the development, production and sale of fittings accessories for the gas, water and sewage industries.
Thanks to the cooperation with the Technical University of Chemnitz and the BTU Cottbus, we then also took great steps towards independence in terms of research and production of our own products. From a small two-man business, which initially only dealt with the pure machining and processing of metal, we developed into an innovative research centre with our own Schoenborner brand products.
After moving to the Hennersdorf site, we also expanded our capabilities in terms of CNC processing and plastics processing to such an extent that today we are no longer dependent on the supply of external producers. All our products bear our in-house stamp. But this is not the only thing that makes us unique. We are the only company in Germany to offer our customers the possibility of putting together their own individual product in a configurator, supplemented by the 3D printing process, and to view the resulting solution even before it is actually realised.
In the near future, we would like to continue to drive these advances in the area of digitalisation and Industry 4.0 and build a centre of excellence for product configuration with innovative ideas.
Would you like to find out even more about us? Then just take a look at our entire company chronicle.
You will see: Science and business go hand in hand at our company.
In 1992, Mrs. Heidrun Dienst and Mrs. Liane Ebert laid the foundations of our current medium-sized company, Schönborner Armaturen GmbH, in the municipality of Schönborn in the Elbe-Elster district of Brandenburg. At that time, they started with two employees. A little later, you bought the adjoining property of an old forester's house with barn, stables and residential building. The stables and parts of the barn were used for storage and the old residential building was used to create recreation and social rooms.
In 2002, our company already consisted of 15 employees. During this time, Mr. Thomas Ebert took over the company shares from Mrs. Heidrun Dienst and did the first foreign business in Switzerland, France and later also in Scandinavia.
Furthermore, from 2003 onwards, we were able to win the TU Chemnitz as a strong partner in research and product development, with whose cooperation, for example, the hybrid coupling sleeve or a new brake and pull-out safety system were developed. Our company's spirit of research was greatly inspired thanks to this cooperation, especially with Prof. Dr.-Ing. Wolfgang Nendel, deputy head and research area manager of the professorship "Plastics Technologies and Machine Design". Since then, we have developed from a small two-man business with the occupation of purely working and processing metal, to an innovative research centre with our own products of the "Linkage manufacture" brand as well as other exciting innovations at home and abroad.
In 2006, due to the rapid growth of our company, we moved to Hennersdorf to the former Hebel gas concrete plant. This factory was built in 1979-81, where our current company owner worked as an apprentice and later as a shift fitter. In the same year, we fundamentally optimised the quality of our material cuts as well as the effectiveness in the entire production with the acquisition of a CNC-controlled sawing/cutting system.
Nachfolgend haben wir uns immer stärker damit beschäftigt, wie wir unsere Fertigungstiefe weiter ausbauen können. In dieser Zeit begonnen wir nicht nur mit der Kunststoffverarbeitung, sondern schufen uns in der Lohnfertigung in den Bereichen der Automobilindustrie sowie dem Musikinstrumentenhandel ein zweites Standbein. Auch hier vollschritten wir bedeutende Meilensteine in Sachen Innovation dank der Zusammenarbeit mit der TU Chemnitz. Unsere Bauteile im Kunststoff-Spritzgussverfahren können wir seither eigenständig herstellen, was uns von der Belieferung externer Produzenten unabhängig macht. Um dabei ebenfalls unsere eigenen Werkzeuge zu entwickeln, diese zu warten und instand setzten zu können, begonnen wir nun auch im Bereich der CNC-Bohr-/Frästechnik sowie der CNC-Drehtechnik inkl. robotergestütztem Materialhandling unser Know-how auszubauen und damit unser Angebotsspektrum zu erweitern.
With 35 employees, we celebrated our 20th anniversary in 2012 and the progress we have made and the success we have achieved in customising and making the production of actuating elements for fittings in the municipal gas, water and wastewater industry more flexible. With our approximately 60 patents and utility models, we secured a leading position in the industry.
In 2013, we succeeded in gaining the BTU Cottbus as a research partner and for knowledge transfer, in addition to the TU Chemnitz. Spurred on by the Chemnitz cooperation and the successes achieved, we now pushed ahead with the first joint projects. Since then, we have realised 1-2 joint projects with our two research partners every year and have initiated well over 2 million euros to date.
In 2016, we bought our previously rented premises and expanded them to a total size of 20,000m² and immediately started the expansion and renovation, which almost doubled the production area.
Spurred on by the vision of delivering a perfect product, we had our business processes audited. Since then, we have also been certified by TÜV SÜD Management Service for the development, production and distribution of fittings accessories for the gas, water and wastewater industry.
Our old homepage has had its day. On March 1st, 2016 the kick-off of our new web-optimized site took place.
In October 2017 we looked back on 25 years of Schoenborner.A saw and a conventional lathe had to be sufficient to start production.Now the CNC department has 3 milling machines and 2 lathes. In the plastics department there are 2 injection molding machines and an extruder. The assembly department is equipped with 2 friction welding systems and individual workstations. Various workplaces are available for welding work. A new sawing system was installed.In addition to the management in the areas of sales, accounting, project management, production management, human resources, marketing, logistics and construction, 12 employees work in administration. 3 employees deal with digitization on the topics of configuration and 3D visualization.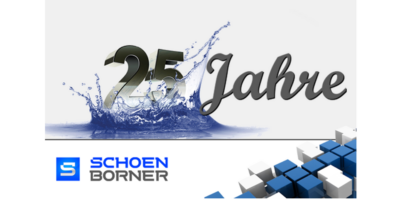 The topics of Industry 4.0 and digitalisation are on our daily agenda. All the more so because our company owner is a member of the IHK IT and Innovation Committee and the DIHK Industry and Research Committee. In our search for a solution to minimise the enormously increased workload associated with the increasing personalisation of products and product features, we came across a corresponding software solution. The Jena-based company ORISA offered us the desired opportunity to bring the topic of product configuration to life. Since 2017, we have therefore been offering our customers the opportunity to submit their product enquiries via our website in a configurator and to put together their own Schoenborner brand product themselves. This solution has since become our greatest pride.
We no longer want to do without the 3D printing process we use in our daily work. It allows us to precisely create consumer samples in order to check their feasibility in terms of manufacturing processes. What is still far from feasible for some has long been standard for us. We thus offer every customer the visualisation of their own product idea before its actual production. To date, no other industry-related company in Germany offers comparable techniques, such a mature product variety and vertical range of manufacture as well as our associated competences.
In order to interest young people in our region in particular in such topics, we have made it our task to support the state of Brandenburg in the development of curricula for the training of trainers and the education of their apprentices based on this. But we also offer committed students the opportunity to write their final thesis at our company and to experience and help shape practical research.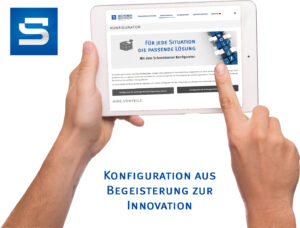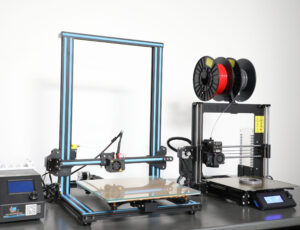 In 2019, we can look back on a small increase in the number of our employees, in which we were able to hire returnees to the district in our company, among other things. Our constant contact with the BTU-Cottbus/Senftenberg and the TU-Chemnitz has continued as in previous years and we are therefore still very much involved in research and development. We have also continued to develop technically, our design laboratory has been expanded with a 3D coordinate measuring machine, which enables us to measure parts quickly and precisely. Furthermore, we have joined the network "Water 4 All", a project that is concerned with the protection and safeguarding of freshwater resources over several phases. We are pleased to report that a trainee from the BTU Cottbus/Senftenberg was allowed to travel to Australia to report on current and future projects of our company at a conference.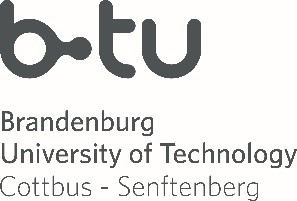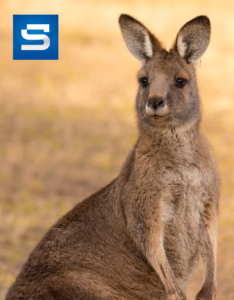 This year was no normal year. A pandemic broke out across countries. The virus "Covid 19" restricted humanity in many areas of life, including the economy. Measures were developed and taken to contain the spread and thus the transmission of the viruses. While many companies had to cut jobs during this difficult time, we, as Schönborner Armaturen Gmbh, were able to hire more young qualified employees. Nevertheless, it was a premiere for us to send our administrative staff to the so-called "home office", which was only one of many measures to counteract the virus.
Following the Corona protective measures, some employees moved their offices to our adjoining building. This is just one of several measures that we as the "Schönborner" company have taken to counteract the coronavirus.
Composites United e.V. (CU) is one of the world's largest networks for fiber-based multi-material lightweight construction. Our managing partner Thomas Ebert will become a board member of the CU Ost cluster, which as a regional representation of interests connects around 60 companies and research institutions in the new federal states and thus bundles the fiber composite competencies in the region .
Schönborner Armaturen GmbH has been awarded the "Germany's Innovation Leader" certificate  by the F.A.Z. Institute  for the second time and is thus among the top 100 most innovative companies in Germany.
The Germany-wide study "Germany's Innovation Leader" was carried out  by Prognos AG on behalf of the F.A.Z.-Institut, a subsidiary of the Frankfurter Allgemeine Zeitung, in cooperation with the IMWF Institute for Management and Economic Research.
This year, Schönborner Armaturen GmbH is awarded the Brandenburg Innovation Prize in the Metal Cluster by the Brandenburg Ministry of Economic Affairs for the "Leak Detection Test Bench" project. This is a result of the curiosity of our managing partner Thomas Ebert and his vision to develop the fire for research and development as well as innovation in as many employees as possible.
For the first time , Schönborner Armaturen GmbH is supporting two students from the Technical University of Applied Sciences Wildau with a Deutschlandstipendium each. Schönborner expects a synergy effect from the closer cooperation between the departments of engineering and natural sciences and the research and development department at Schönborner.
In August 2022, the Brandenburg Ministry of Economic Affairs has finally approved the application for the establishment and financial support of the innovation cluster "WasserWirtschaft". The aim of the cluster is the use of innovative technologies and processes to minimize the consequences of climate change on water resources and their users.
All of these measures, skills and visions are intended to help us build an innovative centre of excellence for product configuration and 3D visualisation in the near future. Following the digital transformation that can no longer be stopped and the networking of all processes in science and business, we want to shape the transfer of knowledge in the state of Brandenburg in a way that promotes the future and create the foundation for Industry 4.0 in the Lausitz region. Today, many specialist dealers, fittings manufacturers and municipal supply and disposal companies are already convinced of us and our capabilities.
Schönborner – Newsletter
Immer gut informiert auf dem neuesten Stand: Erfahren Sie als erster von innovativen Produkten und exklusiven Aktionen. Melden Sie sich zu unserem Newsletter an!