IFAT Munich from 30.05. – 03.06.2022
At our booth, we presented product and technology innovations that aroused interest in our products and services, as well as in the company. For us, IFAT was a complete success after the long Corona break this year. In this way, many constructive and interesting technical discussions were held, which form the foundation for a successful expansion of our business relationships.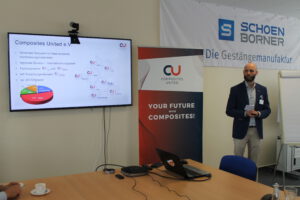 Sustainable fiber composite potential in municipal gas, water and wastewater management
On 15.10.2021, representatives from industry and research met on this topic at Schönborner Armaturen GmbH. Read in the autumn issue of Lausitz Magazin which three projects Schönborner Armaturen GmbH has implemented with regard to sustainable fiber composites.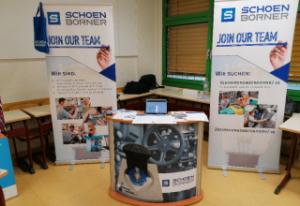 Career orientation day in Finsterwalde
On 18 January 2020, the annual career orientation day took place at the Oscar-Kjellberg secondary school in Finsterwalde. We and 40 other companies from the region hoped to attract people interested in vocational training.
We would like to thank the organisers.
InfraTech trade fair 2020
We were present at the Infra-Tech with a new design of the table in street optics. From 14 – 16 January we were able to make some nice contacts.
We would like to thank the visitors at our stand and especially the joinery Haufe and the advertising brothers for the quick realisation of our stand idea.
Schönborner – Newsletter
Immer gut informiert auf dem neuesten Stand: Erfahren Sie als erster von innovativen Produkten und exklusiven Aktionen. Melden Sie sich zu unserem Newsletter an!