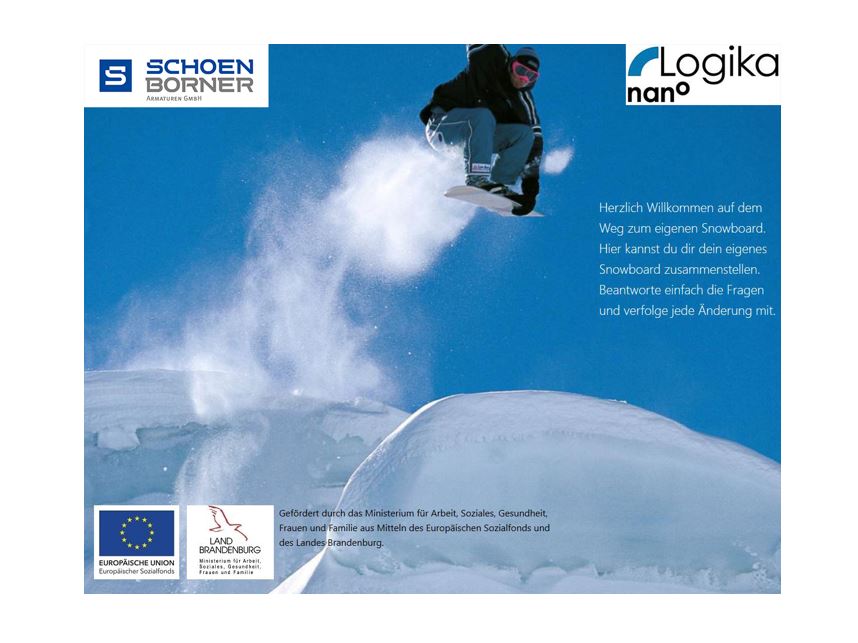 The Snowboard Configurator
The snowboard configurator was developed as an interactive teaching and learning medium as part of the WAME 4.0 project (link to project page https://www.imu-berlin.de/portfolio-item/wame4-0/) by Schönborner Armaturen GmbH, nanoLogika GmbH and the IMU Institute. It gives teenagers and young adults insights into the digital development and production of products in the age of "Industry 4.0". With the configurator, topics of individualised mass production (batch size 1), but also aspects of data processing and data protection in the digital factory can be conveyed in a target group-oriented and vivid way.
Your contact Person:
Mr. David Budschulowski
E-Mail: Konfigurator@schoenborner.com
Schönborner – Newsletter
Immer gut informiert auf dem neuesten Stand: Erfahren Sie als erster von innovativen Produkten und exklusiven Aktionen. Melden Sie sich zu unserem Newsletter an!